Settlement:Tyrian Bay
Jump to navigation
Jump to search
This is a settlement on the Freedom Isles.
Tyrian Bay
"Next Stop: Sarava", "For SCIENCE!"
Size 0 Village
Mayor
Zinglon
Population
4
Allies
Enemies
"We've conquered heaven and hell, and everything in between".
About
Tyrian Bay was named after the scrolling shooter arcade game, Tyrian. The towns purpose is to graduly become a research center, dedicated to providing the WurmWiki with facts about the game not yet provided. "Tyrian Bay is still under construction and does not yet own a Settlement Token". All players looking to pursue and help finalize the knowledge base of the WurmWiki or perhaps anyone looking for a safe haven may find a place at Tyrian". All players are expected to treat one another with respect and are to be independent, with regards to maintaining their own lifestyle.
The people of Tyrian are mature and sensible. We allow free speech, but we as a town keep our thoughts to ourselves.
Religion
The people of Tyrian follow no God in particular, however Vynora shrines may be located around the Bay. "If anything, we believe in SCIENCE".
Location
Directions
Freedom, South of Etheral Dawn
Map
Will be displayed once the settlement token is placed.
Town Design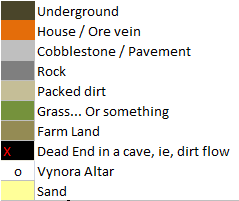 Members
Civilians
Research Contributions
Information on a subject
Details on...
Max speed on cobblestone in full cotton set
Alternative requirement to making a Chain Jacket
Theories on factors on luck